A couple of weeks ago, I heard about Entangled, an anthology that was soon to be released, and to which Stacia Kane has provided the foreword. The anthology is a collection of Halloween themed stories, and it's released in support of charity. 100% of the proceeds go to Breast Cancer Research Foundation.
Entangled releases September 12, 2011, and will be available as an ebook at Amazon, Barnes & Noble, Smashwords and other online retailers.and this is the beautiful cover, that's also been donated to the project.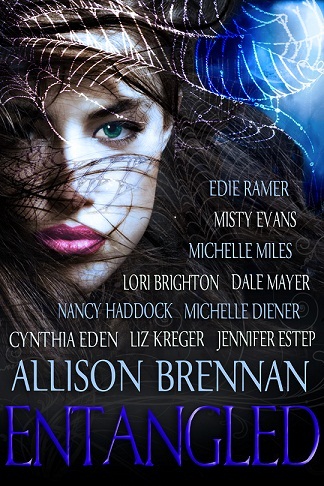 Back Cover Blurb

Ghosts, vampires, demons, and more!

Entangled

includes ten suspense-filled paranormal short stories from authors

Cynthia Eden

,

Jennifer Estep

,

Edie Ramer

,

Lori Brighton

,

Michelle Diener

,

Misty Evans

,

Nancy Haddock

,

Liz Kreger

,

Dale Mayer

, and

Michelle Miles

, plus a

Seven Deadly Sins

novella by

Allison Brennan

.
One of the people who initiated this project, Misty Evans, answered a few questions about it over on
Laurie's Thoughts & Reviews
. This is what she says about the price:
Q: How much will the ebook cost?

A: Entangled will be discounted to $2.99 during September and October in honor of Breast Cancer Awareness month. After that the price will go up to $3.99. For stories of this caliber, it's a fantastic deal at either price.
To find out more about  how the book came about, and the stories you'll find in the anthology, you can visit Laurie's Thoughts & Reviews or Misty Evans' website, where you can also read a sneak peek of her contribution to the anthology, Sweet Demon.Entangled is actually already available to purchase, and Stacia blogged about her involvement on her website. You can read Misty's Q&A there as well.
I've been waiting for it to appear on Smashwords, since Amazon adds a fee if you buy books from them, and Barnes & Noble's e-books aren't available for international customers; and I'm happy to report that it's already up on Smashwords as well! 😀
Here are links to where you can purchase Entangled:
Amazon (Kindle)
Barnes & Noble (Nook)
So, basically, you can get a whole book of stories from awesome authors, it only costs $2.99, and it's all for charity – so what are you waiting for?

If you're still not convinced, you can read this
very positive review over at Coffee Table Reviews
, where Aimee mentions that
Stacia's foreword was the thing that touched her most about the book
.