I'm slowly, but continuously, updating different parts of the site. Recently I've added a page for A Glimpse of Darkness, a book that was a collaboration between five authors. Each author wrote their own chapter, and the direction each chapter should take was voted upon by the readers when the chapters were released online last fall.
The chapters are no longer available online. However, you can buy the book in e-format.
Buy A Glimpse of Darkness here.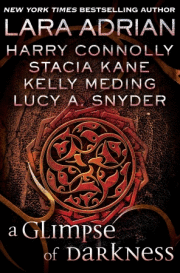 To read more about the book, and see excerpts from the chapters, visit our page for the book, located in the menu, in our The Books section